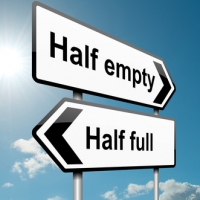 The Peril of Pessimism
by Pastor John Mann | September 1, 2015
A man once said, "A pessimist can hardly wait for the future, so he can look back with regret." To a pessimist, anticipation of the future always gives way to regrets of the past.
Have you ever found yourself trapped in the pit of pessimism? Anyone whose mind has been captured by negativity knows that, at the bottom of the pit of negativity, resides the peril of pessimism. The pit which is filled with pessimism can seem almost inescapable.
Pessimism is harmful to the Christian for the following reasons:
Pessimism ruins your witness. Pessimistic people tend to attract other pessmistic people. The problem is that, when a crowd is made up of pessimists, who is there to share the hope of Christ?
Pessimism is contagious. Ten silent optimists will be overcome by one pessimist in every situation. Have you ever met a silent pessimist?
Pessimism robs you (and others) of motivation. Winston Churchill once said, "A pessimist sees the difficulty in every opportunity. An optimist sees the opportunity in every difficulty." Do you primarily point out the difficulties, or the opportunities in a situation?
Pessimism damages your relationship with the Lord. Ultimately, pessimism is much more than simply thinking negative thoughts. It is a deep-seated belief that evil will prevail. Pessimism questions God's ability to bring triumph out of difficulty.
Let me encourage you that, no matter what you are facing today, make a determined effort to be a person who maintains a joyful and positive approach to all situations. The Bible says, "As a man thinks in his heart, so is he," (Prov 23:7).
The one who believes in the Lordship of Jesus Christ can maintain a positive mindset because he knows that the confession "Jesus Christ is Lord" means that there is no power, enemy, or tragedy that can thwart the good hand of God.
Let us say like Job did in the midst of his suffering, "As for me, I know that my Redeemer lives, and at the last He will take His stand on the earth," (Job 19:25).